Church History
---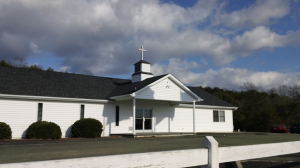 Shining Light Baptist Church was founded in September of 1981 when a small group of believers began meeting in a small building on highway 89.  Over the next several years the church grew under the direction of Pastor Junior Howlett.  After a few years of service, Pastor Howlett resigned.  Our current pastor, Brother Elmo Hiatt, was installed as the preacher of Shining Light Baptist Church on August 11th, 1985.
Shortly after Pastor Elmo took over the ministry at Shining Light, God blessed this local assembly greatly, and they began to build a new church building at our current location on Piper's Gap Road.  With about forty members and only forty dollars in the building fund, the church set out to build a new church building.  God blessed the congregation for the faith and commitment that they had shown to His work, and on September 27th, 1987 Shining Light held its first service in its new building.  Three years later, they began construction on a fellowship building to accompany the sanctuary building, and despite the fact that they had began with only $40, the church finished paying for the building in June of 1992.
Since the construction of the building, the congregation at Shining Light has continued to be faithful to the service of the Lord.  We are still located at the same location, and we are still led by the same loving and caring pastor.  We have seen several people come to Christ as a result of our ministry, and it is our mission to continue to reach out to the community and lead people to Christ today.
---