Pastor's Page
---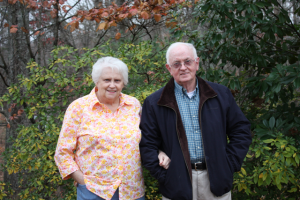 Pastor Elmo Hiatt was born in Ararat, VA, on a small, steep and rocky farm nestled in the Blue Ridge Mountains of Patrick County. He was next to the youngest in a line of eleven siblings. Life was a struggle at best, but the Lord always provided for him and his family.
Pastor Elmo was drafted into the military at the age of 18 and served his country proudly for two years. Soon after leaving the service, he married Reva Bowman and began his own drywall service business.  They started their family and began attending Little Mountain Baptist Church where they faithfully served the Lord in teaching Sunday School for several years. Pastor Elmo answered the Lord's call for him to preach in 1975 while he was at Northside Baptist Church. He was ordained into the ministry and became the pastor of  Cana Baptist Church.  He served there for seven years.
In 1985 he became the pastor of Shining Light Baptist Church and has served the Lord faithfully along with his wife and family since that time. Pastor Elmo said, "I have truly been blessed to pastor the good folks at our church for these many years. God is good."
Pastor Elmo and his wife Reva have been blessed with a son and a daughter. Their family has expanded to include a daughter-in-law, two grandsons, two granddaughters, and three great grandsons.
Through these years, our pastor has been a model example of a true Christian servant of the Lord. He has faithfully preached the Gospel, always having a humble attitude and thinking of others first. He truly has a servant's  heart.
---